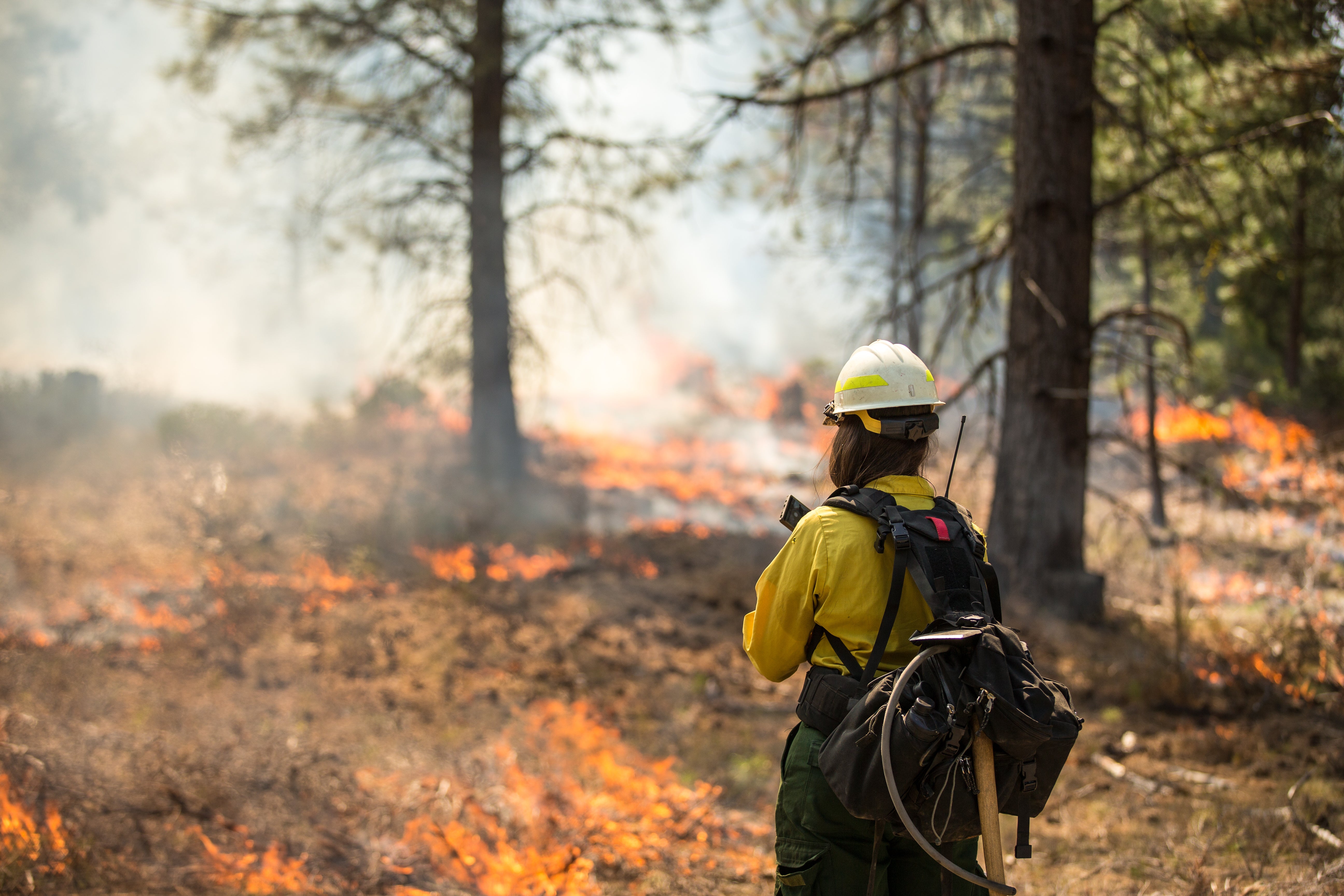 Dramatic natural events in 2021 due to human-made climate change
Even though there are still 4 months left to the year 2021, it has already sent us dramatic warnings that human-made climate change is destroying our planet. The threshold of a global warming of maximum 1.5 degrees will be exceeded in the next two decades if severe measures are not taken immediately. Examples of these warnings are heatwaves, floods, and wildfires, which will become more frequent and destructive. Particularly Europe was intensively hit by these strokes of faith in 2021. Alarmingly, global fire alerts have increased by 13% from 2019 to 2020 and humans are responsible for approximately 75% of all wildfires.
Wildfires in Greece, Turkey, and Italy
"They put out plans, they define goals, but they don't really act."
Wildfires have ravaged Greece, Turkey, and Italy this year, with severe heat fuelling the blazes and displacing thousands of people. Between 351,326 hectares and 468,434 hectares have burned in the European area, according to the European Forest Fire Information System (EFFIS). As a devastating consequence, there has been a significant loss of agricultural production, which leaves many people threatening to existence since they are depended on their harvest. Furthermore, many ecosystems have been destroyed and will take years to recover from that incident.
More countries suffered large fires than ever before."
Greece
More than 800 firefighters continue to fight the fires with the support of at least 15 other countries. The most affected region is Greece's' second-largest island Evia. According to EFFIS, Greece had to handle 58 fires, which is already more than the total fires of 2020, which equals 46. It is estimated that the same number of hectares have been burned down, which also led to mass evacuations along with destruction of houses, agricultural harvest, and other belongings. Unfortunately, 2 people did not survive this natural catastrophe.
Turkey
Approximately 225 fires raged through 47 regions of Turkey, burning a total of more than 55,000 hectares of land. Rainfall over the weekend aided Turkey's attempts to put out the flames that have devastated the nation since July 28, causing mass evacuations and devastations amongst residents. Sadly, 8 people lost their lives due to the wildfires in 2021.
Italy
2 people died, due to wildfires, which nearly doubled compared to last year (44,442 compared to 26,158). 150 people had to flee by sea and the airport was closed for a few hours. It was reported that since mid-June the fire department had to go out 37,000 times – 15,000 times on a Sunday alone. Particularly affected regions are the south of Italy and Sicily.
Floods in Germany, Belgium and The Netherlands
"The flood forecast jumped straight from warning level two to level four."
On July 14th and 15th, a massive storm hung over Western Europe, resulting in heavy rainfall in Belgium, Germany, Luxembourg, Switzerland, France, and the Netherlands. Numerous people were injured, missing, or killed due to two months' worth of rain falling in 24 to 48 hours in Germany. This has caused rivers to overflow their banks and flash flood to run through the streets. To clarify the impact of this natural event: During the storm nearly double the usual rainfall for a month hit the affected areas, which equals 148 liters of water per square meter. Experts estimated that the floods damaged around 72,000 properties, resulting in costs of over $10 billion in the European affected areas. The tragic scale becomes clear when examining the total number of deaths of 229 people in Europe as of August 11. According to a study by the World Weather Attribution Group, global warming is one important factor that can be held responsible for the catastrophe. Therefore, heavy rainfall, which caused the flood will be 1.2-9 times as likely to occur, due to rising temperatures.
"Everyone thought the situation was manageable."
Germany
Sadly, Germany has the highest death toll, with a total of 184 people.
The residents of some areas were cut off from the outside world, since there was no access to electricity, gas and water and the infrastructure was destroyed, which complicated any rescue and support attempts. The "Ahr", a river in North-Rhine-Westphalia, the mainly affected area in Germany, was one of the responsible waters that overflowed the banks. Its previous all-time high was at 3.71 meters in 2016 and this year it set a tragic new record of 7 meters.
Belgium
In Belgium, the number of confirmed deaths stands at 38. The most-affected town is Verviers, where numerous households were without electricity, gas, and water. As people should have received better protection and more accurate warnings, which could have saved lives, Belgium opens a manslaughter investigation over the flood deaths. The main goal is to find out who can be held responsible for the "involuntary homicide by lack of foresight or precaution".
The Netherlands
Also the south of The Netherlands got struck pretty badly. A dyke alongside the Juliana canal in the south of Limburg broke through on Friday afternoon, leading the local safety board to urge people in several villages to leave their homes as a matter of urgency because flooding was inevitable. From own experience we can say it was a really scary situation, as some people of our own team had to evacuate from their homes to get to safety.
'It is very clear that the situation is disastrous,' prime minister Mark Rutte told reporters. 'People are worried about their homes and their jobs.'


Heatwave in Italy and Greece
"We are devastated by the fires and our ecosystem - one of the richest and most precious in Europe - is at risk."
The wildfires that have raged through Italy and Greece in July and August 2021 go along with an unbearable heatwave. Hot, dry weather is more probable to provoke wildfires as a result of climate change. Sicilian meteorologist reported temperatures of 48.8 degrees, which yet must be officially verified. In case of confirmation, this would be the all-time heat record in Europe, replacing the measured temperature in Greece 1977 of 48 degrees. The current heatwave was triggered by an anticyclone called "Lucifer", coming from Africa. The Italian health ministry has announced "red" alerts for excessive heat in 15 areas.
How to help?
"They have nothing. Everything is gone."
The Center for Disaster Philanthropy created the Global Recovery Fund, which supports international disasters with highly appreciated public donations. In case you want to help people in need or aid to restore ecosystems and biodiversity, feel free to donate here!