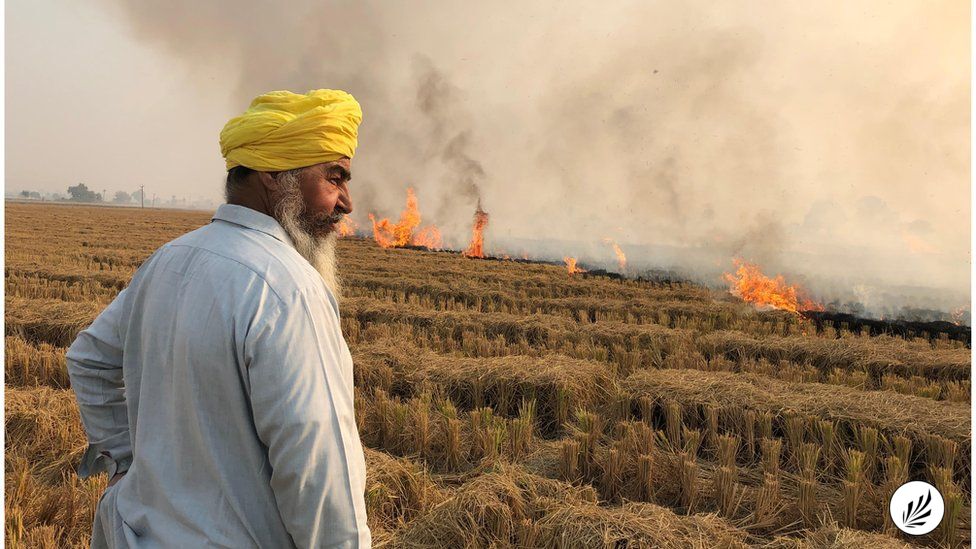 Summer stubble burning in India
Satellite imagery from the first week of May 2020 showed that concentration of Nitrogen Dioxide (NO2) — a pollutant released due to burning of fuels and organic waste — has increased drastically over in just a couple of weeks after the wheat crop was harvested in the Indian states Punjab, Haryana and Uttar Pradesh at the end of April.
Farmers use stubble burning as a quick but dirty method to quickly clear off the straw left behind after a harvest, as removing straw manually is time consuming and relatively expensive for Indian farmers, who are generally not the most wealthy. The stubble burning is the major reason for the severe air pollution in Delhi during the winter months.
While the stubble burning in winters is more visible as smog, the practice goes more unnoticed in the summer months as the heat and winds dissipate pollutants like Particulate Matter (PM) and NO2 over the Indo-Gangetic plain.
Satellite pictures show that NO2 concentration — indicated in shades of green and red — jumped across North India from the last week of April (Pic I) to the first week of May (Pic II) 
Even more worryingly, NO2 levels are the lesser of the pollutants which get released due to stubble burning. The rise in levels of Carbon Dioxide and Carbon Monoxide are alarming! A report by Anmol M Dua for the Bhajan Global Impact Foundation said that according to the Ministry of Agriculture and Farmers' Welfare, in Haryana, Punjab, and Uttar Pradesh 23 million tonnes of paddy stubble was burnt in 2017 and
carbon dioxide levels increased by 70 percent;
carbon monoxide levels increased by 7 percent
nitrogen dioxide levels increased by 2.1 percent
Why does summer stubble burning go unnoticed?
In the summer months of April and May, wheat crops which are planted during the winter are harvested. For the upcoming paddy crop, the land has to be cleared in a very limited amount of time (2-3 weeks). Farmers use wheat residue as fodder for cattle and it's only the stem that is set on fire. The paddy residue is not used as fodder as it's unfit and hence farmers burn both the paddy stalk and straw close to autumn every year.
Wheat harvesting is at its peak in the last week of April and first week of May, due to which NO2 levels have spiked precariously. While these emissions are more visible in the winters, in summer months the heat dissipates the pollutants. This is why the problem of stubble burning receives media attention mostly in in the winter months of November and December.
Solutions?
The most important is that we educate them and help the Indian farmers to find a proper solution for their agricultural waste, so they do not longer feel like burning it is the most convenient way of processing the waste. We have to create more sustainable solutions so we can decrease our single use plastics use.
The Indian Agricultural Research Institute has developed a solution it has named 'Pusa', which can decompose crop residue into manure by accelerating the decomposition process. These agents act on the straw to make it soft, break down its molecular components and release the nutrients into the field. As a result, Pusa may reduce the use and cost of fertilisers and could help increase the yield of the subsequent crop.

Another solution is the solution that ECO Wheat – Collection encountered for their residual waste. We use agricultural wheat waste to turn in into valuable natural single use items. This way we prevent them from burning it and can replace plastic single use items. We financially compensate the farmers for their waste to motivate them to not burn it and educate them about the consequences of stubble burning.
Helping others in this world to develop and find more environmentally friendly solutions is a big part of our philosophy. Don't point fingers, lend each other a helping hand!
Together towards a plastic free planet within one generation.