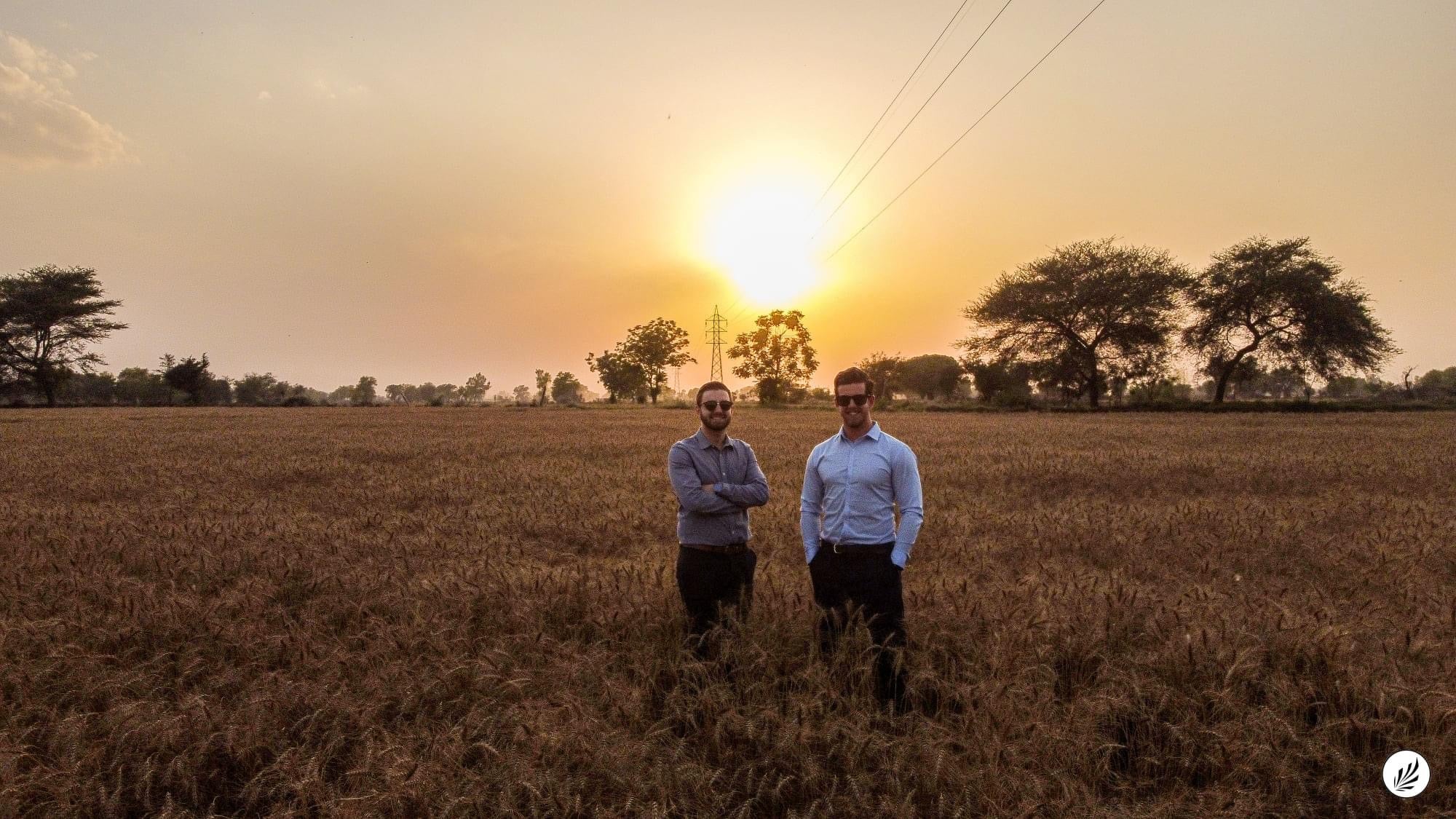 Men with a mission: Picking up tons of residual wheat waste in India
After a failed attempt to collect residual wheat waste in November due to the farmers protests and therefore closed borders, this time whilst packing our bags we were really clear that we were men with one single mission for this trip to India. This time we were determined and said to each other; "We are not going to leave India without making an impact, we are leaving India with tons of residual wheat waste for our upcoming products, that's for sure". Easier said than done in India though, but much of a choice we didn't have either if we wanted to go on with our mission of going towards a plastic free environment and having a real impact by preventing farmers in India from burning at least tons of their waste.
So, there we went. On the 8th of April we flew into the Ghandi Airport in Delhi with a lot of motivation and good hope. After a calm flight we arrived safely in the hotel, ready for a good night of sleep and a new crazy adventure in India.
After some appointments for the last preparations with the involved partners in the first week, we left for Punjab state, the agricultural capital of India. A massive 95% of the Punjabi people are farmers, making it the main source of income for the Punjabis and the main source for agricultural products in India. Besides being the agricultural capital of India, Punjabi people are also known for being the most hospitable people in India. Everybody welcomes you with open arms and wants you to feel at home, so we were really excited to get up to the north.
After a massive 9-hour drive from Delhi to Punjab, with some do or die moments, exotic backroads and 10 prayers, we arrived safely (which is always a miracle in India) in Bathinda, Punjab. Here we met the farmers who would supply us with their residual wheat waste. We visited them at their farm where we shared time, stories and really got to know more about them and their lifestyle on an Indian farm. Together we visited the location where they make the hay bales and where the residual waste would get picked up. Also, on their farm we made some of the most beautiful drone shots I have ever seen. Huge fields full of wheat crops, beautifully captured. Even though I have to admit that we almost didn't get any shots with the drone at all, after getting it stuck in a tree and almost getting it run over by a sowing machine, all on the first day…. but luckily we worked as a team, got the drone out of the tree and were lucky enough to reach the farmer on the tractor just on time, with the drone just being inches away of being molded completely.
Unfortunately, we have again also seen the downside of the agriculture in India, the crop burning after harvesting. After harvesting the grains, farmers go on the land again to collect another part of the stem which they use as food for their cattle. This way they do make use of the waste after harvesting. That sounds pretty good, right? Unfortunately, the reality is that the part which they use, not even 1/4th of the total waste is that gets left behind after harvesting the crops. The majority of the wheat waste remains and becomes residual wheat waste. As farmers only have 3 weeks to prepare for paddy (rice) season, they do not have a valuable purpose for it and want to get rid of their residual waste as fast as possible, in the most economical way possible. For them, this solution is simply burning the crops, leaving behind a sky full of smog which can eventually be seen all across the country, together with massive black, burned pieces of land. Just imagine, a massive 4.2 million hectares of agricultural land in Punjab (83,4% of the total geographical area) totally black and burned, not even thinking about the huge amount of smog and carbon dioxide getting released in the process.
Thursday 29th of April it was finally D-day for us. The day we had been looking forward to the most had finally arrived. We were finally going to pick up the residual wheat waste. Seeing such a big amount of wheat getting loaded on the truck, knowing we had found a sustainable solution for all this residual wheat waste in front of us, knowing we were preventing farmers from burning it and that we were going to make a lot of beautiful products out of it was an amazingly satisfying feeling for the both of us, an extremely proud moment that we will cherish for a very long time. Seeing the trucks full of hay bales hitting the road for a long trip towards The Netherlands, was the moment we realised; "We did it". It might not seem like such a massive operation, but I dare anybody to try and arrange a pick-up for tons residual wheat waste, in hay bales, with Indian farmers. So, believe me that when that moment finally arrives after months and months of preparations, you get a little emotional.
It has been a trip with ups and downs, a roller coaster of emotions, but most of all a really satisfying trip. Communication is not always the easiest, cultural differences are massive and, in all honesty, India is pure chaos compared to the Netherlands. But both of us have started to love the country for the chaos it is, love the people for how they are and how people receive us and all the positive reactions we get from the local people regarding our project. It is a massive motivation to keep helping these farmers to reduce their carbon footprint and negative impact on our planet. Because also de locals and farmers know it is a problem, they just simply do not have the solution for it. 
To know that we are really starting to make a difference in Punjab, preventing the farmers from burning their waste and trying to educate them about the consequences of crop burning through open but honest conversations and helping them find a proper solution. It's a problem we all face together after all. Smog, carbon dioxide emissions and global warming do not know borders, it's a worldwide problem which we need to fix together. Do not point fingers but lend each other a helping hand instead.

Give More In Return & Make less trash – Towards a plastic free planet within one generation.
Sean & Bas